24th Annual NAPICU Conference
Thursday 5th – Friday 6th September 2019
View videos of the presentations here
Registration is now closed, please contact info@napicu.org.uk
Delegate information – please ensure you have registered in advance.
To view the delegate information please click here 
Conference Registration                                           
Registration for the Main Conference will take place in the main foyer of the Hamish Wood Building (01 on the map) 
 Registration Opening Times:  
Thursday 5th September:    08.00 – 17.00
Friday 6th September:         08.30 – 13.30
Training Event Registration – Wednesday 4th September 2019 14.00-18.00
Registration for the Pre-Conference Training Event will take place in the main foyer Hamish Wood Building (01 on the map), You must register in advance for the training event.
Registration Opening Times:
Wednesday 4th September:    13.00 – 17.00
The trainers have asked that you bring along an idea or piece of research that you would be interested in publishing to use and examples.
At the registration desk you will receive your conference pack and badge – please wear your badge at all times, this is a security requirement and will enable you to identify fellow delegates.
Accommodation – Caledonian Court – Student Accommodation
Glasgow Caledonian University, Caledonian Court, Dobbies Loan, Glasgow, G4 0JF
The Accommodation Office is open from Monday to Friday 9am to 5pm, out with these hours you can still arrive and collect your keys from our Security Office at Caledonian Court who are open 24 hours a day. Please bring your registration confirmation.
Introduction to the Conference 
The National Association of Psychiatric Intensive Care and Low Secure Units (NAPICU) is delighted to welcome you to our 24th Annual Conference at Glasgow Caledonian University on Thursday 5th and Friday 6th September 2019.
The theme for this, our twenty fourth Annual Conference 2019 Conference, will be:
"Therapeutic Advancements in Acute, Emergency and Secure Mental Health Settings; Reducing Restrictive Interventions"
There will be discussions on maintaining the PICU specialism and what skills and expertise does the PICU workforce require. We will be retaining the patient at the centre of our focus, ultimately improving outcomes.
The preliminary programme includes four interesting parallel sessions:
PICU as a specialism
Therapeutic Practice in Different Settings
Education and Workforce
Novel Treatments in Psychiatry 
And of course we will have a full social programme including a Quiz night and Civic Welcome Reception Hosted by the City of Glasgow followed by the Gala Dinner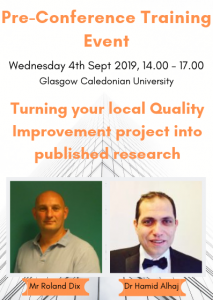 Course Leaders
Dr Hamid Alhaj, Consultant Psychiatrist, Sheffield Health and Social Care NHS Foundation Trust and NAPICU Executive Committee Member (Research Lead).
Mr Roland Dix, Approved Clinician, Consultant Nurse in Psychiatric Intensive Care & Secure Recovery, 2gether NHS Foundation Trust and Editor-in-Chief Journal of Psychiatric Intensive Care & Low Secure Units, NAPICU Executive Member
Click here for more information
Poster Session
The poster session will be held as an interactive poster and exhibition session.Submit an Abstract for review by our judging panel.
Return of Team of the Year 2019
Any team from an LSU or PICU Service who are fully paid members of NAPICU can enter for the Team of the Year Award.