25th Annual Conference 2021
Thursday 23rd & Friday 24th September 2021
Radisson Park Inn, Northampton
NEW FOR 2021 HOTEL ACCOMMODATION*
* 2-star accommodation as standard at hotels near the conference venue, 4-star accommodation also available
The NAPICU Conference Planning Committee has been busy preparing and planning for the 25th Annual NAPICU Conference on Thursday 23rd & Friday 24th September 2021 which will be held in Northampton at Radisson Park Inn Hotel
The theme for this year will be:
"
PAST, PRESENT & FUTURE

"
The preliminary programme includes
Key healthcare management speakers
Carers on the frontline
Frontline staff advances over the years
Diversity
With many other great presenters and topics covered.  Don't miss out! Please book early to avoid disappointment!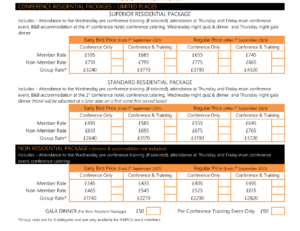 Follow us on social media to keep up to date with conference announcements
Register now for the conference and save up to £100 for individual delegates and Ward members can save up to £500 if they register a group of 6 delegates.
---
PRE-CONFERENCE TRAINING EVENT
PICU specific skills for frontline staff – This training is for anyone who would like to provide training to enhance the clinical capabilities of their team or for individuals interested in developing their own knowledge and skills. Current workforce challenges have, in some services,  led to many teams struggling with retention of staff and recruiting people with limited experience in the PICU environment. NAPICU feel passionately that working in a PICU is a specialism yet little specific training is available to equip staff with the challenges they may face and allow them to enhance their skills to support service users. This pre-conference will training will explore the "specialism" of PICU, what this means, the skills that are needed or lacking and how we can improve the clinical competencies of staff across all levels. Following the discussion, the initial module of the NAPICU training will be delivered with an opportunity for feedback to aid the ongoing development of the training.
---
POSTER SESSION

The poster session will be held as an interactive poster and exhibition session. Submit an Abstract for review by our judging panel.
Guidelines on poster submission here
All applications should be submitted electronically by email to the NAPICU Administration Office info@napicu.org.uk
NAPICU Registration 2021 Manual Form
Enquires to info@napicu.org.uk
Follow us on Twitter and like us on Facebook